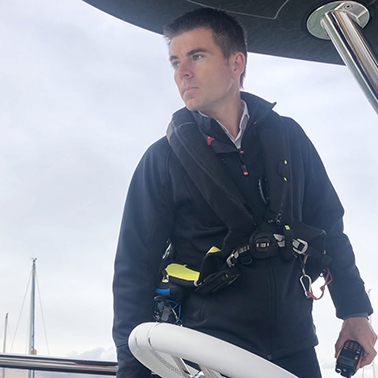 James Lumley
Having grown up into a family marine business, James has spent his entire life surrounded by boats. He has experienced much of the industry including working in the shipyard, undertaking bespoke engineering projects and then for the past 20+ years focussing on sales and new business development.
Based at the home of Sunseeker Southampton in Swanwick Marina since 2012, his team have grown to become one of our most successful in the group. He also directs our overseas business in the Adriatic – comprising Croatia, Montenegro, Slovenia, Serbia and Bosnia Herzegovina, in addition to Sunseeker Nigeria.
He has a wealth of experience in international brokerage transactions, with many sales in Scandinavia, the Balearics, Spain, France, America and the Gulf – to name but a few. By nature, these are often complicated and a thorough knowledge of the conveyancing/tax process, enables James and his support team to overcome most issues with the minimum of fuss.
James is the current Chairman of ABYA, the only professional UK association of Yacht Brokers & Yacht Agents, who seek to promote a reputation of excellence in yacht brokerage. ABYA run a training and mentoring programme to encourage and develop careers in the marine retail sector.
James has a real passion for high performance (hence his love of Sunseeker!) and spends most of his spare time either building and racing off-road trucks or out on the water in his classic twin V8 petrol Sunseeker Hawk. As an experienced captain, he enjoys taking the helm at every opportunity.
He is an experienced action-sports cameraman, and can often be found behind the controls of a UAV (drone), capturing the action at our many owners events, or shooting in challenging conditions at sea – preparing a new listing for sale.
His wife Kim also works at Sunseeker Southampton, which means their 4 year old daughter already loves being surrounded by boats and the water!
A keen game shot during the winter season, he loves working his English Pointer and enjoying the countryside – walking, fishing and a good Sunday roast!
With a global database of listings and clients, James loves to travel overseas. You can follow his daily adventures online – Instagram full_throttle_james
Contact James
Please fill in the form below and James will get back to you shortly