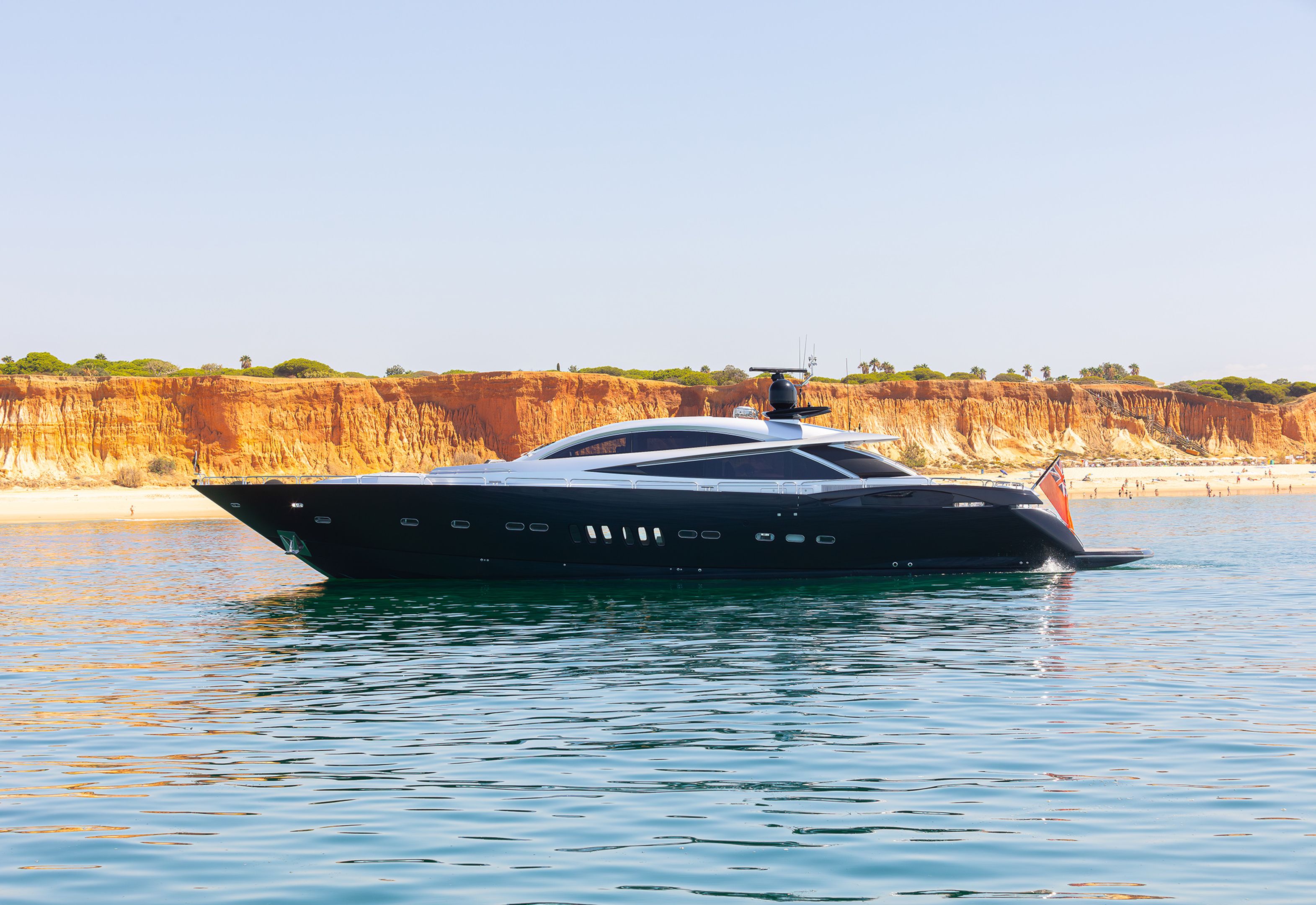 Sunseeker Predator 108 "GEE WHIZZ"
€2,995,000
Not Paid
Lying: Portugal | Ref: #5582
"GEE WHIZZ" has to be the most iconic Predator ever to be produced by this hugely respected British shipyard; Sunseeker International.
A 2010 model (although launched in 2009), "GEE WHIZZ" a Sunseeker Predator 108 was built and commissioned for her first owner and highly diligent Captain who not only helped shape the build and technical spec, but continued to maintain and manage this yacht until she was sold to her current owner.

"GEE WHIZZ" had many upgrades to the standard specification of a Sunseeker Predator 108, such as water tight forward bulkhead, generator upgrade, island seating arrangement in the aft cockpit, air purifier unit located in saloon, huge AV spec, shore power converter, electric blinds in the master cabin and American walnut cabinetry. A number of recent upgrades have ensured this Sunseeker Predator 108 is unrivalled by any craft of its age or specification.

In addition to the upgrades, she has been impeccably maintained with an unlimited budget since new including the hull repainting in 2013 with Awlcraft 2000 and corrected superstructure paint in January 2014 with further painting and enhancements in 2022.

She provides accommodation for up to 8 guests in 4 staterooms of which two cabins are convertible to double cabins. There are manual operation blackout blinds in addition to the main blinds in all guest cabins (electric in master) with the entertainment system upgraded to KVH M9 satellite TV systems with six Sky+ HD decoders. An up-to-date Fusion entertainment system was added in 2023.

The triple MTU engines give her a cruising speed of 34 knots and maximum speed of 41 knots. The combination of this unbelievable engineering platform and truly special design creates a combination of blistering performance and sublime handling.

Lying in Vilamoura, Portugal; "GEE WHIZZ: is asking € 2,995,000 excluding VAT. She has never been chartered and is immediately available in superb condition.

Please contact us at anytime for further information or to arrange a viewing.
A number of updates keep this 2010 (model) Sunseeker Predator 108 "Gee Whizz" feeling fresh and in-line with a number of the current design trends seen on new motor yachts. Innovative shade solutions both on the foredeck and in the aft cockpit, freestanding furniture in the saloon and dining area, and a complete newly laid light grey Plasdeck composite deck to the exterior in the 2023 means "Gee Whizz" will not disappoint.

Huge outside spaces, extensive sun-bathing areas, freestanding furniture, newly installed (2022) shade systems and an integrated hot tub on the foredeck leaves both sunworshippers or shade lovers wanting for nothing.

Four guest cabins on the lower deck each come with beautifully finished en-suite bathrooms with programmable under floor heating. The master cabin feels palatial spread across the widest part of the boat at 6.3m. The twin cabins both include single beds that slide together to make doubles and the foredeck VIP provides a space easily comparable with the master.

The main deck houses a loft style space with almost 2.5m ceiling heights, roof glazing and a huge rotating opening sunroof with freestanding lounge and dining furniture. A serving galley on the starboard side provides convenient storage, refrigeration and serving space. All housed around the central awe-inspiring aerospace like cockpit with 4 electrically adjustable Bezenzoni helm seats and all of the boats' main controls.

A staircase near the aft patio door descends to the main galley, crew mess, 2 x crew cabins and the main access door into the triple engine room space.

Finished in the opulent American Walnut cabinetry throughout this Sunseeker impresses in every space.
ELECTRICAL SYSTEM
European, 380v 3 phase 50 Hz, giving a single phase voltage of 230v
Shore supply input via a single 100 Amp 3 phase connection and auto-tap transformer which accepts 360 - 440V input with phase auto-rotation
A semi-automatic power management system provided which configures the distribution system according to the available power sources. Load protection is by magnetic circuit breakers & residual current devices at 300mA
Glendenning Cablemaster system & remote control for shorepower (1 X 100 amp)
All AV equipment powered through inverter.

NAVIGATION SYSTEM
Furuno NavNet 3D black box
Furuno FAR2117 radar with HSC 6ft scanner 48rpm
Furuno GP-320B GPS for NavNet 3D system
Furuno FA-150 AIS system with dedicated display, interfaced into NavNet 3D system
Furuno SC-50 Satellite compass with SC-303 antenna with dedicated display, interfaced into NavNet 3D system
Furuno ultrasonic wind speed sensor interfaced into NavNet 3D system
Furuno Fax-30 antenna and black box interfaced into NavNet 3D system
Furuno DFF1 Fish Finder transducer and black box interfaced into NavNet 3D system
CCTV input integrated into NavNet 3D system
Simrad IS15 20 Depth and speed display and transducer
3 x 19" Hatteland displays on console
Simrad AP25 Autopilot with AC20 pilot box computer
Simrad RS87 – VHF DSC handsets at helm, crew mess, aft cockpit (emergency steering) & intercom speakers in the bow and engine room
1 x Furuno 12" repeater display in crew mess
FLIR Nightvision camera
CCTV and FLIR cameras connected to the AV system

AV EQUIPMENT
KVH M9 satellite TV system with six Sky decoders

MAIN DECK SALOON
BeoCenter 2 - DVD/CD/FM radio player with wall/table stand
i-Pod docking station
BeoVision 4 - 50" Plasma TV with rise and fall
4 x BeoLab 4000 speakers, semi-recessed in headlining (Front and Rear Channels)
2 x BeoLab 4000 speakers, semi-recessed in headlining (Center Channel)
1 x BeoLab 2 sub-woofer
BeoSystem 3
AppleTV
Playstation 3
Fusion RA-770 Wi-Fi controller

DINING AREA
Zone control from Deck Saloon BeoCenter 2

MASTER STATEROOM
BeoCenter 2 - CD/FM radio
i-Pod docking station
BeoVision 4 - 50" Plasma TV with rise/fall and 90 degree swivel mechanism
4 x BeoLab 4000 speakers, semi-recessed in headlining (Front and Rear Channels)
2 x BeoLab 4000 speakers, semi-recessed in headlining (Center Channel)
1 x BeoLab 2 sub-woofer under the bed
Playstation 3

VIP GUEST CABIN
BeoSound 4 CD/FM radio
i-Pod docking station
BeoVision 7-32" LCD TV with built-in DVD player, bulkhead mounted
PORT & STARBOARD GUEST CABINS
BeoCenter 6-23" LCD TV with built-in FM radio and integral speakers, bulkhead mounted
Multi-region DVD player

AFT COCKPIT
Zone control from Deck Saloon BeoCenter 2
i-Pod docking station (located in the Saloon)
6 x AIM8-Five Kevlar Bass unit speakers
1 x 8.2 BAS passive subwoofer
Zone control from Deck Saloon Fusion Wi-Fi 2023
4 x Fusion Speakers Signature 2022

FOREDECK
Zone control from Deck Saloon BeoCenter 2
6 x AIM5-Three speakers
i-Pod docking station (located in the Deck Saloon)
Zone control from Deck Saloon Fusion Wi-Fi 2023
4 x Fusion Speakers Signature 2022

EXTERIOR
Black hull
Metallic silver superstructure
Aqualuma Series 6, white LED underwater lights x 12 (four across stern, four aft on each side)
Spa tub in gelcoat finish, plus RGB lighting option and air boost pump
Island seating arrangement, in lieu of standard, consisting of two bench seats running longitudinally in the Aft Cockpit
Two GRP custom corner units with built-in custom refrigeration, in lieu of standard wetbar in the Aft Cockpit
Radar chair in polished stainless steel finish
Fake air intakes in carbon fibre
Carbon fibre and polished stainless-steel ensign staff in lieu of standard
Polished stainless-steel anchors in lieu of standard galvanised
Polished stainless steel rubbing strake at bow
Passerelle in polished stainless steel finish (trolley section in black) in lieu of standard
Crane in black finish, 600kg maximum lift capacity
Side boarding ladder with stowage on inside of garage door
Cockpit table in natural teak finish on polished stainless-steel pedestal
Additional hatch in aft cockpit to access garage
Bright lighting fitted on top face of radar arch to light up radar chair and navigation mast from below

INTERIOR
Black American Walnut interior wood satin finish in lieu of standard
All bathrooms, including crew bathroom, with programmable under floor heating
Master Stateroom shower column upgraded to Hansgrohe Prestige Manual with light
Sliding option for berths to convert to double berth when required in the port and starboard guest cabins
Black ceramic toilet in lieu of standard in the Guest En suites
En suite taps Gessi Rettangolo Cascata 30985 Waterfall Basin tap (wall mounted) including LED option, in lieu of standard
Teak grating for shower trays in all en suites including crew
Sub Zero 700BR fridge drawer unit at bar area in lieu of standard in the Main Deck Saloon
Miele built-in coffee machine (CVA 5065) under countertop in bar area in the Main Deck Saloon
Sony Playstation 3 fitted in Saloon and Master Stateroom
Walnut venetian blinds, electric operation in the Master Stateroom & Wardrobe
Manual operation blackout blinds (100% blackout (fabric black 041) with side tracks) in addition to main blind in all guest cabins
Air purifier unit Daikin Siesta 7 located in saloon
LED low-level security lights in staircases
Lazzarini Palermo heated towel rail (polished chrome finish with grey finish Terma 300 W element) on bulkhead in the Master Stateroom En suite
Dimming for overhead lighting in the Master Aft Stateroom

TECHNICAL
Water softener (UKH20 MSF14MC-MegaSoft High Flow Softener)
Kohler generator remote displays beside helm position
Air Conditioning - air handlers upgraded to quieter running AHDC units
DC fresh-water pump upgraded to Gianneschi JET4B model
AC socket in waterproof enclosure in Aft Cockpit Locker, Foredeck Locker and Garage
Generators Upgraded to Two Kohler EFOZD 40kw 50Hz in lieu of standard two Kohler 33kw
Additional PTO to allow simultaneous operation of thrusters
Engine and Generator fuel pre-filters upgraded to Racor type with water in fuel alarms
Small work bench with vice in the engine room
Upgraded Navigation Specification in lieu of std (as specified)
FLIR non-stabilised infra-red camera (Navigator pan and tilt) connected to Wheelhouse and Crew Mess displays and distributed through TV network.
KVH M9 satellite TV system with six Sky+ HD decoders (Saloon, Master, VIP, Port twin, Starboard twin, Crew Mess).
CCTV system with four stainless steel exterior cameras (one eyeball type on each outboard side, one forward facing on radar arch, and stern docking bullet camera) plus four cameras in engine room (two forward, two aft) connected to display at helm and distributed through TV network, in lieu of std
Manual dipstick fitting in fuel tank for accurate reading
Fuel overfill prevention sensor fitted in the fuel tank
All 1500 gph bilge pumps upgraded to 3700 gph type (pipework diameter is upgraded too), except those in galley and crew quarters
Batteries upgraded to A0 Lifeline 1 AGM type with charger temperature compensation sensors
Wiring preparation only for possible future fitment of KVH V7 mini V-Sat communications system with M9 size dummy dome.
PABX telephone exchange with B&O phones and onboard data network with points in all cabins, saloon, dining area, helm and crew mess.
Wireless printer on slide-out shelf at helm area. GSM black box system with data connected to PABX
LAN connections to port internet in the stern

GALLEY
Miele Professional range Dishwasher G 7856
Galley appliances to consist of: Miele KM 5975 Hob, Miele DA 3190 extractor, Miele M8161-1 Microwave, Miele H5081BP Oven, Miele W 3985 WPS Washing Machine and Miele T 7734 Tumble Dryer
Marine stainless steel custom fridge and freezer in lieu of standard in the Galley and Crew Mess
Icemaker (Raritan) located in Galley unit under stairs
One and a half bowl galley sink (1 x Franke GAX 110 45 & 1 x Franke ARX 110 17) with commercial type looped tap
Removable pan holder grid for Galley hob
Staircase to crew quarters to land one step further into Galley area, to improve angle of staircase

SAFETY
Liferafts upgraded to 2 x 16-man with Solas B pack (RAF1445), located on framework on roof, on hydrostatic releases.
General alarm repeater panel in crew mess
Fire detection system repeater panel in crew mess
EPIRB McMurdo Smartfind +
SART McMurdo S4
Additional polished stainless-steel extinguishers in the saloon and helm
Helm, Saloon and Galley fire extinguishers upgraded to 5kg type
Additional Sea Fire FM 200 extinguishing system for Wheelhouse Technical area in the Helm Position
Small diesel driven Yanmar pump in garage for emergency fire / bilge pumping system
2 x Draeger BA sets with suits and helmets
6 x un-insulated immersion suits

RECENT WORKS
2021
Additional sun-shade from custom carbon poles with Sunbrella sun-shades.
All exterior upholstery replaced with a charcoal Sunbrella fabric.
All carpets replaced.
Saloon Settee replaced with free standing unit.
Saloon dining table replaced.

2022
Arneson drives fully serviced and Billows replaced.
All Calpeda water pumps serviced.
Grey & black water tank opened, cleaned and sanitized, Plexiglass and sensors replaced.
CCTV system Remote access fitted.

2023
Parts of the black hull were re-sprayed with Awlcraft 2000 and the entire hull polished.
Entire superstructure received a 3m vinyl wrap.
Hydraulic hoses replaced and a ram repaired.
Engines, generators and gearboxes fully serviced.
Thrusters hydraulics serviced.
Air conditioning ducts replaced.
Air conditioning chillers serviced.
All black water hoses replaced.
Outside cockpit furniture replaced.
All exterior teak decks replaced with Plasdeck light grey composite decking.
Fusion RA-770 Wi-Fi controller (installed in deck saloon)
Zone control from Deck Saloon Fusion Wi-Fi for foredeck and aft cockpit
4 x Fusion Speakers Signature – aft cockpit
4 x Fusion Speakers Signature - foredeck
Broker Details
Steve Handy
Email Steve Handy Directly
Specification
Спецификация

Категория

Sunseeker

Модель

Predator 108

Год производства модели

2010

Местонахождение

Portugal

Max/Cruising Speed

41/34 knots

Двигатели

Категория

MTU

Модель

16V 2000 M93

Engine HP

2434

Drive Type

Arneson Drives

Параметры

Общая длина

32.9m/107ft 11in

Осадка

2.25m/7ft 5in

Ширина

6.3m/20ft 8in

Weight

85000kg/85t

Ёмкость

Fuel Capacity

11000 litres

Water Capacity

1800 litres

Black Water Capacity

450 litres

Grey Water Capacity

450 litres

Спальных мест

Cabins

4

Guests

8 Berths

Heads

4

Crew Cabins

2

Crew

4 Berths
Layouts
Наведите курсор на изображение снизу для полного размера




Profile

Main Deck

Lower Deck
---
Make an Enquiry
Please complete the form below and one of our experienced brokers will be in touch shortly.
Dealer Approved
Sunseeker Brokerage находится исключительно в собственности компании Sunseeker London Group. Наши яхты одобрены торговым агентом, и все судна основательно обследованы в целях обеспечения полного функционирования. В дополнении к этому, мы рады предложить вам экслюзивную возможность гарантийного облуживания на протяжении последующих 3 месяцев.
Мы также предлагаем возможность частичного обмена яхт, и обширная сеть наших офисов по всему миру всегда готова превратить вашу мечту в реальность. Покупка одного из наших суден означает не только качество и надежность, но также и возможность совершить сделку по продаже или покупке яхты без головной боли от подыскивания подходящего покупателя и оплаты брокерской комиссии. Наш ассортимент яхт обновляется регулярно, и мы всегда в вашем рапоряжении, если вам угодно получить больше информации.
Close